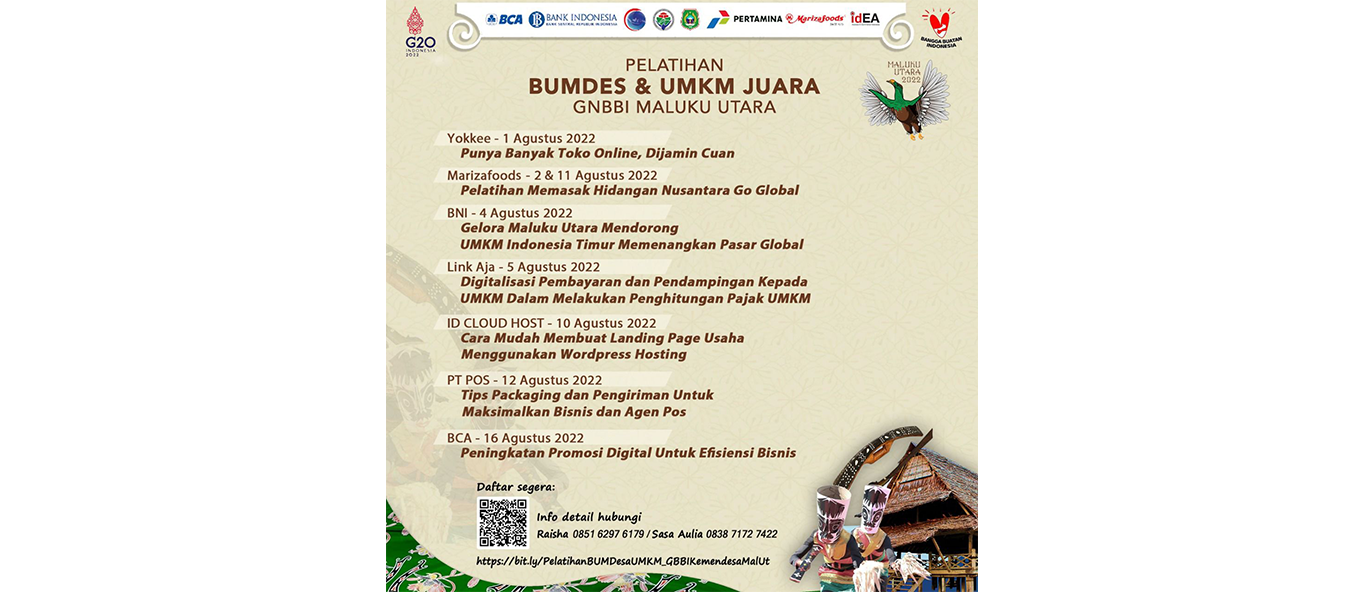 01 Agustus 2022
Skill Up Session - BUMDes and MSME Training for North Maluku NAM
After 6 sessions of the North Maluku BUMDes and UMKM Training were completed, now is the time for the participants to get Skill Up training from Top Brands. Unlike the main training which raises basic themes in digital business, the Skill Up Top Brand training carries more focused themes, according to the specialization and business of each Top Brand.
Among the Skill Up Top Brand trainings include Training on Cooking Indonesian Cuisine by Mariza Food, Assistance in Tax Calculation for MSMEs by LinkAja, Packaging and Shipping Tips by PT. POS, to Beauty Grooming and Personality Class Sessions by Mustika Ratu. Through this Skill Up training, participants are expected to gain further and detailed knowledge, considering that the mentors presented are practitioners and experts from each field. Skill Up training with Top Brands will take place from 1 August to 1 September. As the organizer, the Indonesian E-Commerce Association (idEA) continues to actively inform about the Skill Up Top Brand training schedules for MSMEs and BUMDes participants from North Maluku. idEA believes that this joint collaboration will accelerate the progress and digital onboarding of business actors in North Maluku.
To find out the complete schedule of Skill Up Training with Top Brand, click here.
translation-not-found[latest_activities]