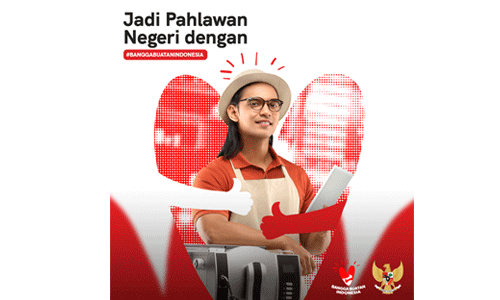 banggabuatanindonesia, ecommerce, indonesia
Expect the #BanggaBuatanIndonesia Movement to Expand the Indonesian SME Market
The COVID-19 pandemic has changed many things in the daily lives of the world community, including Indonesia. Micro, small and medium enterprises, known to be resilient during the monetary crisis, are the most economically affected victims.
Besides the pandemic, other MSME challenges come from consumers. Some Indonesian people often feel more classy when using products labeled abroad, made famous fashion home for example. When in fact, at present, many domestic products are actually suppliers of these expensive and well-known brands.
Shouldn't we ask why developed countries are interested in using Indonesian products for their famous trademarks? Conversely, why do Indonesian people often place local products as second-class, even third-class goods? Shouldn't Indonesian consumers love domestic products more, because even world-class brands have chosen it?
It's time we all work together to help MSMEs as one of Indonesia's economic strengths. For this reason, the #BanggaBuatanIndonesia Movement is echoed. This movement has the full support of President Joko Widodo and his line of ministries.
The #BanggaBuatanIndonesia Movement aims to encourage the Micro, Small and Medium Enterprises (MSME) sector to go digital and expand market reach.
SMEs to remote areas. This can be done by utilizing digital developments through platforms. Not just social movements, platforms like Tokopedia, Shopee, Blibli, Bukalapak, Lazada, Gojek, and Grab are under the auspices of the E-Commerce Association
Indonesia (idEA), is committed to providing education and training for MSMEs who have obstacles to starting their businesses online.
This movement also encourages consumers to be more proud to buy and use domestically made products. With #BanggaBuatanIndonesia, it is hoped that Indonesia will rise faster from the current pandemic. IdEA Chairperson Ignatius Untung said that now was the right time to invite MSMEs to enter the digital channel. "It is not only the impact of the COVID-19 pandemic, but it is indeed time for SMEs to also explore digital channels to expand their businesses," Untung said in Jakarta, Thursday (5/14) morning.
In addition to the pandemic, the development of digital technology today is also very promising. Including for the SMEs. The potential offered by the digital sector to MSMEs is enormous. Untung also emphasized the commitment of the platforms to support this movement. Platform involvement is also expected to be able to maximize the potential that exists in Indonesia's micro sector.
Just look at active internet users in Indonesia which continues to increase, reaching more than 180 million people. In fact, Indonesia is included in 20 countries with the largest number of internet users in the world. A very large number as a potential market for the variety of products offered by MSMEs, right?
Meanwhile, Coordinating Minister for the Economy Airlangga Hartarto said, the need for MSMEs to get assistance and training related to digitization in order to achieve the results as expected.
"We support the #BanggaBuatanIndonesia Movement, because it allows MSMEs to get online training on how to develop their businesses. The training is not only to answer current problems, but also to prepare
future. However, perseverance and consistency from the SMEs are still needed to increase their sales, "said the Coordinating Minister for Airlangga. "The only way to survive as a dignified nation is to buy products made in Indonesia with pride. It's time to say, I'm Indonesian, I'm proud of being made in Indonesia, "Untung added.
It's time to take control of it into our hands. The time to build a nation starts from the heart. From a sense of pride in buying, and using domestic production. Be proud of Indonesian-made products because this is an incomparable form of national.
translation-not-found[latest_article_public]