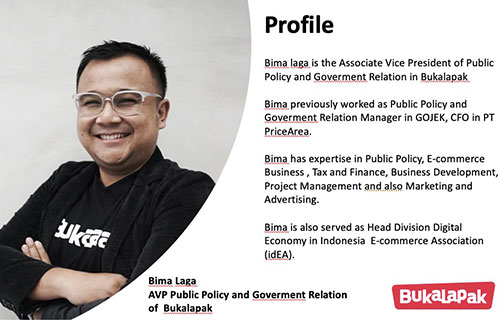 Ketua Umum idEA, 2020, 2022, Bima Laga
Replacing Ignatius Untung, Bima Laga won the vote of acclamation as General Chair The Indonesian E-Commerce Association for the period 2020-2022
Jakarta, 3 September 2020 - The term of the Indonesian E-Commerce Association (idEA) under the leadership of Ignatius Untung has ended. For the 2020-2022 period, idEA already has a new Chairman. Bima Laga, Associate Vice President of Public Policy and Government Relations, Bukalapak.
Bima, who has been involved in the digital industry, was chosen by acclamation to continue idEA's journey to realize its vision and mission. The man who has also been in charge of Gojek's Public Policy and Government Relations Division and has been CFO in Price Area is noted to have been the committee of this association for more than six years.
Since the establishment of the Indonesian E-Commerce Association in May 2012, fronted by 10 large e-commerce businesses that have become the initiating team for idEA, including Blibli.com, Berniaga.com, Bhinneka.com, Kaskus.co.id, Multiply.com, Gramedia .com, Plasa.com, TokoBagus.com (OLX), and Tokopedia.com, idEA have proven their active role and influence in the growth of Indonesia's digital economy industry.
Currently, idEA has passed four management boards and Bima Laga himself has become the fourth general chairman of idEA. "I have been involved in the management of idEA for a long time. idEA has become a part of my career history in the digital industry, "said Bima in a press release after his appointment as General Chairman of idEA 2020-2022 in Jakarta, Thursday (3/9).
Bima added, "With the growth of Indonesia's E-Commerce industry over the past four years which has reached 500%, accompanied by a very fast growth and industrial dynamics, I have prepared a program that supports the strategic role of the association by embracing many new players in the e-commerce industry. , such as finance, logistics, and other start-ups. This opens up opportunities for the addition of members who are richer from the side categorization so that it will be able to bring idEA to an increasingly capable bargaining position in the future. "
On the same occasion, Ignatius Untung expressed his confidence that idEA will continue to be the driving force for Indonesia's digital economy. "For Bima, happy work and work. The terrain will certainly be different from the previous ones, but with a solid stewardship, idEA will be able to make new histories to encourage the development of Indonesia's digital economy, "said Untung.
Also attending the event to determine Bima as the new chairman of idEA, the CEO of Tokopedia who is also the Founder and Chair of the IdEA Board of Trustees, William Tanuwijaya expressed his hopes for this new stewardship. "The e-commerce industry is the only hope for many Indonesian businesses to survive this pandemic. Hopefully idEA will be able to become an organization that continues to advance the Indonesian e-commerce industry. "
As is known, since the pandemic hit Indonesia, idEA has also participated in encouraging MSMEs to go digital. idEA is actively holding online workshops that provide education on the benefits of going digital. Even idEA is also one of the important elements driving the National Proud Movement Made in Indonesia. Gernas BBI aims to encourage MSMEs to market their products through the marketplace platform. That way, they will have a wider market share.
Carrying out his duties as Chairman of idEA, the father of one child is determined to bring positive changes to the e-commerce industry, and of course Indonesia's digital economy. "I will immediately formulate a management team that is expected to be able to realize this big goal," said Bima added.
translation-not-found[latest_article_idea]